The media console is finally finished. The media console that I loved was this one from Pottery Barn but the price tag was a bit scary. I asked my dad about making a template for a media console and his response was, "why don't you just buy one". I knew that would be his response but after a little convincing and pleading he agreed to help.
This was my inspiration from Pottery Barn.

We are in the process of a family room makeover, you might have remembered seeing me nailing planks to the wall about a month ago. Miss Rhoda, from Southern Hospitality, has been helping me and I hope to have the final reveal in a couple weeks !
I did a post before Christmas when we started making the media console. I will do a materials list and tutorial soon.
This is what we came up with,
I painted the cabinet with 1 coat of Annie Sloan Chalk Paint "French linen" and then mixed 75%Benjamin Moore "white diamond" with 25% ASCP "French linen" for the 2nd coat. I didn't have ASCP "pure white" so I substituted with the BM "white diamond" .
We have a lumber mill about 1 mile from our house and look what I found for the top! A beautiful 2 1/2 inch piece of reclaimed lumber.
I bought a 25' piece for $18! Scoooooooooore
I sanded it to get the dirt off, wiped it clean and applied Annie Sloan Clear Wax and then Annie Sloan dark wax to enhance the dark tones of the wood. I love how it came out!
The poor guy at the mill dug this thing out from a pile of probably 300 random pieces of wood.
I still need to get some white cord covers. You can see the progress in the background of the planks on the wall.
The doors are kitchen cabinet doors that we had left over and I turned them length wise, cut 4×4" squares from MDF wood, glued them on the cabinet doors to create the faux drawer look. I wanted these knobs from Anthropologie,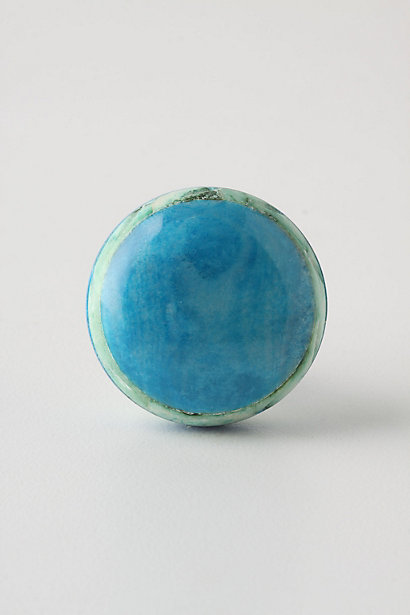 I needed 12 and at $8 each, the knobs would have cost more than the cost to build the entire cabinet! So, I went to Michaels and found these in the jewelry section,
I will do a post soon on how I made the doors and made these .50cent knobs!
And there you have it, my version of a Pottery Barn Apothecary Media Console for a total cost of $75 (cost of wood & knobs). Learning how to build a media console was a bit more involved than I anticipated and I am thankful my dad helped me. I'm not sure what it would have looked like if he wasn't there to help. ha :).
UPDATE

: Be sure to check out our DIY Anthropologie knob tutorial. This do it yourself media console was built on the same premise as our window seat tutorial, just different dimensions.
If you are looking to try some Annie Sloan Wax or chalk paint, I got mine from Nancy at Sea Rose Cottage. Look her up, she has a fab store and is sooooo helpful! 🙂