Anthropologie knockoff knob tutorial
This post may contain affiliate links. Please see our disclosure here.
Do you love Anthropologie? I do! It's the perfect store when you are looking for something fun, bold and unique. When my dad and I made our DIY media console, I wanted the knobs to add a pop of color and exude glamour. What better place to go, Anthropologie. One small problem, the knobs I wanted were to expensive so I decided to make my own Anthropology knockoff knobs. The tutorial couldn't be easer.

If you can find a design on sale, they are usually pretty reasonable. Isn't this little guy fabulous?!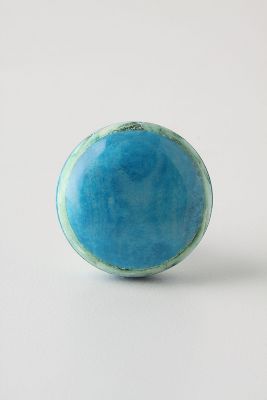 These knobs I wanted for our DIY Pottery Barn Media Cabinet were out of my budget, as I needed 12! So I headed to Michaels Crafts. I had no idea what I was going to buy but figured something would jump out at me……and it did!

I purchased 4 "four packs" of the turquois jewelry beads on sale for $2.49 for four! There were only four sets of four left so I knew that it was meant to be! I wanted the knobs to look real and stick out a bit from the faux drawer so these little wood pegs did the trick! I hot glued one round wood plug to each bead and then attached (with hot glue) to the faux drawers I made. You could use wood glue also…..I just didn't have the patience for it to dry over night!

The doors for the cabinet are kitchen cabinet doors that we had left over. I flipped the cabinet length wise and turned it so the backside was facing out (it was the flat side). You can use any door, but if you are going to glue MDF to it to create a faux drawer look, you will need to make sure you have a flat surface. I purchased 1/4" craft MDF (wood) at Lowes and cut out "12" 6×6 squares. I glued the squares to the door and Viola, faux drawers!
I did reinforce with small finish nails (use short finish nails & nail from the inside so you don't see the nail head).

Presto! Four Generations One Roof's version of a DIY Pottery Barn Media Cabinet & DIY Anthropologie knobs. You see see the cabinet post here.
Meet Jessica
What started as a hobby, Jessica's blog now has millions of people visit yearly and while many of the projects and posts look and sound perfect, life hasn't always been easy. Read Jessica's story and how overcoming death, divorce and dementia was one of her biggest life lessons to date.